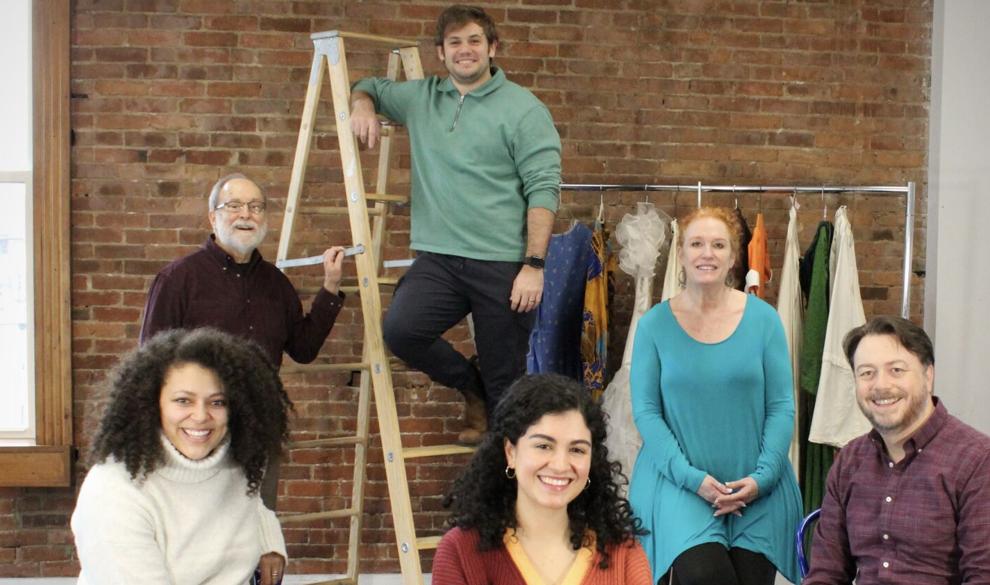 PITTSFIELD — The way 62-year-old Southern California writer Robert Weibezahl sees it, penning a 10-minute play "leaves no room for 'fat.' It's just an episode or a meeting but it has to have a purpose. He's a published writer – short stories, novels, non-fiction, poetry – but over the past five years, playwriting has become something of a craft.
"There's nothing more exciting and satisfying than seeing your work performed, your words spoken, your characters animated," Weibezahl said. "Other forms of creative writing don't give you that."
He has written full plays, but it took him a while to write his first short play a few years ago. Other playwrights told him it was a must because, they said, "a short play is a 'calling card,' an opportunity to introduce your work to theaters and audiences."
Weibezahl is one of 10 playwrights who will leave a calling card on Barrington Stage Company's Boyd-Quinson Stage as part of BSC's 11th Annual 10X10 New Play Festival. Performances start on February 24 and until March 13. The show will also air from March 31 to April 3.
The pieces are performed by a cast of 10X10 veterans and newcomers: Aziza Gharib, Doug Harris, Matt Neely, Kelsey Rainwater, Peggy Pharr Wilson and Robert Zukerman.
Weibezahl's "dress," featuring a mother, daughter, and wedding dress, and the other nine festival pieces were selected from 280 submissions.
"We had a few plays (Donald J.) against Trump; one semi-political play," said Julianne Boyd, founding artistic director of BSC, which stages five of the festival plays. Matthew Penn directs the other five.
As much as possible, Boyd said, the play-reading team (she and Penn made the final selections) stayed away from political plays.
Barrington Stage Company's 2022 Season Features 4 World Premieres, Absurd Drama and Classic Musicals
Boyd said she wanted to give the audience an evening of pure entertainment; 100 minutes of relief from the darkness of winter and the gloom of COVID and world events.
"We wanted to give something back to the community," she said. "People need to laugh."
There is a preponderance of two-character plays. The material is fresh, Boyd said, not work that had been written some time ago and tucked away in a drawer until now. And while no conscious effort was made to select plays around a central theme, several plays have to do with deception, truth, honesty – "what is true? what is wrong? Boyd asked rhetorically.
The pieces reflect the times we find ourselves in, Penn said. "We are now used to being lied to," he said during an interview with Boyd at BSC's Wolfson Center on North Street. "People's relationship to the truth has become optional. Say something often enough and it becomes true.
What's true and what's not true is at the heart of Ellen Abrams' whimsical "calling card," "Liars' Anonymous," in which two members of a band of Liars Anonymous find themselves cleaning up after meeting and exchanging more and more imaginative stories. of their respective lives which will have, for the public, more than a ring of recognition.
Abrams said she got the idea from a conversation with someone who had attended a recovery group meeting in Ireland.
"People from different cultures have different ways of expressing things," the 64-year-old said by phone from the Upper West Side apartment in New York City that she shares with her husband and their cat. "She said there was a group of older women, sitting in a row at the back of the room, knitting and giggling in low voices at what they felt were exaggerated accounts being told in the meeting.
Abrams counts six plays among her various writings but, she says, "nothing has given me more pleasure than writing pure dialogue".
"Here you create a whole world in 10 minutes," she said. "It's a little storytelling gem."
As a director, these little gems of storytelling, Penn said, "are (taken from) whatever you can create based on what happened before those 10 minutes."
Until last year, the festival was held on BSC's smaller St. Germain stage at the Sydelle and Lee Blatt Arts Center on Union Street. In 2021, due to COVID, the festival was streamed. This year marks the first time the festival will appear on BSC's Boyd-Quinson Stage, allowing for proper COVID safety protocols.
Boyd and Penn acknowledge that the experience of performing in front of a sea of ​​masked faces can be something a little different for actors who won't have audience feedback – facial reactions; unmuffled laughter – they would end up in "normal" conditions.
"This is the first comedy we'll perform in front of a masked audience," Boyd said.
There has always been something of a freewheeling quality to 10X10. Rehearsal time is short – just under two weeks – sets, props and costumes are minimal and sourced from BSC's set and costume stores.
This year's festival is the 11th in which Boyd has directed; her last as artistic director of the Barrington Stage Company. She is retiring, at the end of the 2022 season, from the company she founded in 1995.
This is Penn's sixth 10X10 festival. He likes mixing materials.
"What's fun are the games that surprise you," he said. "You read a play and think 'well that's okay' and then you put it in front of an audience and it's a real howl."
Boyd credits the actors for bringing their own input, imagination, and creativity to the plays.
For audiences and performers, Penn said, "there's such a liberating quality to 10X10, you just dive into it."
2022 NEW 10X10 GAME FESTIVAL
"Liars Anonymous"
By Ellen Abrams. Directed by Matthew Penn.
Max and Charlotte clean up after a Liars Anonymous reunion and feast on creative interpretations of their lives that seem eerily familiar.
"Steal a Kiss"
By Laurie Allen. Directed by Julianne Boyd.
Two elderly citizens meet at a bus stop where raindrops turn to rain, turn to love.
"Love me, love my work"
By Glenn Alterman. Directed by Julianne Boyd.
Jane is furious because she believes Ned told Sarah he hated her new play. Soon we find out the truth about it and the unique relationship between Ned, Jane and Sarah.
"Stumble Escape"
By Cynthia Faith Arsenault. Directed by Matthew Penn.
Newcomers to a prestigious condo community find themselves in a precarious social situation, after they inadvertently open their neighbor's Amazon delivery – well, that's the fun part!
"An Awkward Conversation in the Shadow of Mount Moriah"
By Jean Bavoso. Directed by Matthew Penn.
Things are a bit strained between Abraham and Isaac after the near-sacrifice. The bond between the Old Testament's most famous father-son duo is on thin ice.
"Honestly"
By Steven Korbar. Directed by Matthew Penn.
A young man and woman end their short romantic relationship and find they can speak honestly to each other for the first time.
"Misfortune"
By Mark Henry Levine. Directed by Julianne Boyd.
A couple receives disturbing news from a fortune cookie.
"Climax"
By Chelsea Marcantel. Directed by Matthew Penn.
The violins swell, the perfect lovers for each other kiss, and you just know everyone is going to live happily ever after…or will they? For Sam and Teddy, the long-awaited kiss turns out to be the easy part.
"The people's voice"
By Cary Pepper. Directed by Julianne Boyd.
Who will be Home Haven's new mayor – the candidate with impeccable credentials, or the one with no experience, no platform, and no agenda? It looks like a slam dunk.
"Dress"
By Robert Weibezahl. Directed by Julianne Boyd.
Lynn and Annie embark on that precious mother-daughter rite of passage: shopping for the perfect wedding dress. But saying yes to the dress doesn't turn out to be so simple as their afternoon in the bridal shop reveals an unforeseen agenda.